At Moto Invictus Garage we are committed to growing the racing community within the Gulf region. Each racing season in the United Arab Emirates we offer sponsorship to promising Gulf and expat riders. Our sponsorship offers riders ongoing technical services and intellectual training throughout the season.
Moto Invictus seeks to have a strong presence in the racing community and offer opportunities to all competitors. We strongly believe that aspiring motorsport athletes within the Gulf region require the best technical and mental support to ensure they progressive to a more competitive level. We are proud to partner with Gulf motorsport athletes to assist them on their journey and are hopeful to see more athletes on a global stage.    
Saska Totaro is a seasoned rider with over 20 years' experience. He has been completing since 1987 in the motocross series, superbikes/supersport and superstock in countries spanning from Italy, South Africa, Bostwana and the United Arab Emirates. During his lengthy racing career, he has ridden factory test bikes for multiple brands, tested tyres of major manufactures, raced for competitive teams and is a valued instructor at the Ducati riding academy. Moto Invictus garage is delight to have the opportunity to support and sponsor Saska Totaro in his next racing season.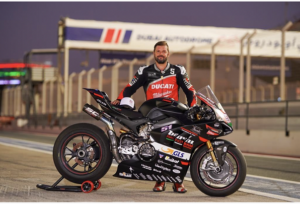 Manuel completed his first racing season as Rookie in 2021 and obtained overall podiums and 1st place Rookies in the Modified Sports bike category in the UAE. He surprised everyone starting front row in his very first race of his career. He owns a Ducati Panigale V2 prepared by our head mechanic Tim. Manuel holds a FIM International License and as a young rider he owned a Aprilia 125cc two-stroke.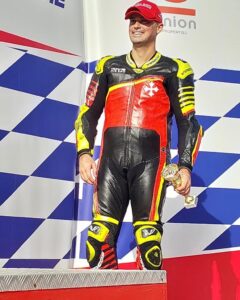 Thomas was always fascinated by speed related sports and technologies. At age 15 he tasted racing on a 50cc bike and won the Swiss championship in 2001, his second season. 125cc in the international German championship was the next step. Thomas then took a break and became a professional pilot and started skydiving but couldn't forget racing. After moving to Dubai and many years away from the race track he made his come back in the 2021 Superstock Rookie category in the UAE and surprised with regular podiums.